Dean DeMello
D & D Construction
175 Third St.
Newport, RI 02840

Registered and Insured
RI Contractors' Registration
and Licensing Board No. 23601

Phone: 401-662-9854
Email: ddconstructionri@gmail.com
Saving you money is my promise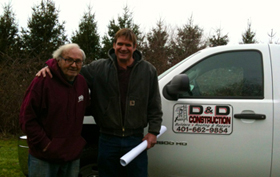 In these hard economic times my promise to my customers is to save you money. I also know how very important your house is to you. That is why we are committed to a higher standard of Quality and Service. Our use of high grade materials, commitment to clean job sites, ability to meet deadlines and, in most cases, savings in the thousands is what sets us apart.
D & D Construction has been providing dependable quality construction services to homes and businesses in the Newport area for the past ten years. Adding something new or improving what's already there? Dean works with every customer on an individual basis to tailor projects to fit needs and budgets.
Dean can help you plan and budget your project, whether it's interior remodeling, a new roof or a repair, single or multiple window replacements, a new deck or repairs to an existing deck.
Call Dean for a Free Estimate
Dean at D & D Construction of Newport, RI, is looking forward to working with you.  Contact him today at 401-662-9854 to get your free estimate.  Servicing all of Aquidneck Island, Newport, RI, Middletown, RI, Portsmouth, RI, Jamestown, RI, Tiverton, RI and Little Compton, RI.