Dean DeMello
D & D Construction
175 Third St.
Newport, RI 02840

Registered and Insured
RI Contractors' Registration
and Licensing Board No. 23601

Phone: 401-662-9854
Email: ddconstructionri@gmail.com
Experience Our Services
No matter what your home or business needs, we can provide it. New or old, Victorian or Colonial, we have the skill set and experience. Here's what some of our valued customers have to say about D & D Construction of Newport.

"We hired D & D Construction to put a new roof on our house by the water in Portsmouth. The work was completed on schedule and every effort was made to protect the plantings near the house and keep the work site clean and debris-free. Being right on the water, it is always very windy at our house, but even Hurricane Sandy did not blow off one shingle! You can't go wrong with D & D Construction!"

"We hired D & D Construction to put new cedar shakes on our 100+ year old house. Being an older home with additions and uneven settling, nothing was level or plumb, but Dean and his crew made all of the painstaking adjustments throughout the job to ensure that our house would look perfect in spite of the structural challenges. Thanks to their attention to detail our house hasn't looked this good since 1900!"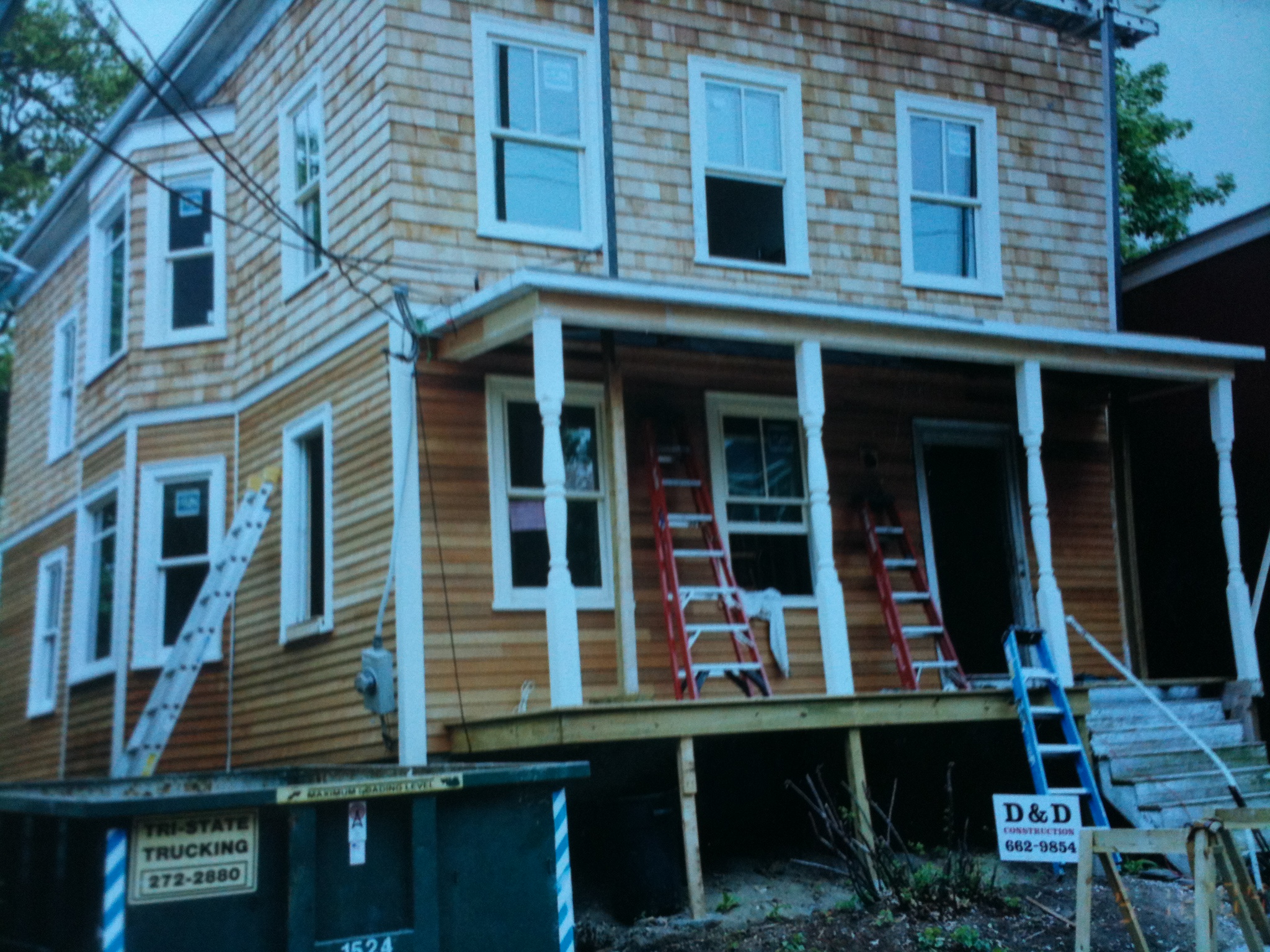 "We've used D& D Construction for large projects at our house so when we wanted a small deck built off our 'Granny apartment' where Mom could enjoy the fresh air and play with her dog Molly, we, naturally went to them. Dean listened to our specific concerns about Mom's mobility issues and designed exactly what we needed with slightly lowered risers in the steps and reinforced, easy-to-grab handrails. Mom can now safely experience the great outdoors – and Molly really likes it too!" – Vicki Newbold

"D&D Construction worked on our house for two different projects in 2011 and 2012.

In 2011 we needed roof work done. Dean and his crew not only did a wonderful job stripping off our old roof and then replacing our roof with quality material, they did it in a clean and professional manner. They also located a leaking walllroofjoint in the process of replacing omroof which they expertly repaired.

We were so impressed with their work that we asked D&D to return for a 2012 project to repair general maintenance issues on the outside of the house that also included painting and replacing windows. Again, another quality job done in a professional manner by Dean and his crew was completed.

With a new roof, new paint, and new windows, our house looks better than when it was first built! " - Rich and Carol Formica

"Seven years ago, we had a leaking roof. Dean was recommended to me to replace the roof at the Community Baptist Church. The entire roof was leaking. He did an excellent job… We had a problem with the structure and doors. He replaced the entire church with windows and doors, to name a few other problems… He completed the job in the timeframe expected. I highly recommend Dean to do any job needed in construction." - Maxine Shavers
Contact Us Today

If you're in Newport, RI or one of the surrounding areas, call us today to discuss your project. D & D Construction will then provide you with a free estimate.